Location: Foreign Languages Building, Room 3046
Librarian: Mengjia Zeng  (tesllibrary@gmail.com)
The TESL library catalog is available online.
Library Resources and Facilities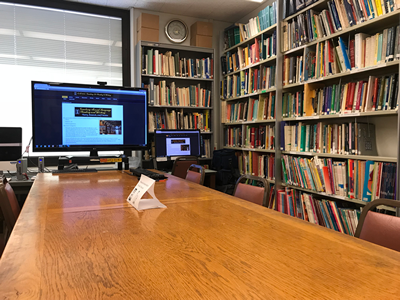 The TESL library has ESL textbooks, ESL references books, journals (back issues until 2006), MATESL alumni theses (until 2006), the MATESL Alumni Authors Collection, and course reserves. Please ask the librarian for assistance if you are looking for more information about course reserves, the MATESL alumni theses and the MATESL alumni authors collection.
With permission from the Library supervising faculty, some meetings directly related to MATESL or the ESL service courses may be held in the library. All meetings should be approved and scheduled in advance.
Click here to reserve time in the library or to check to see if it is already reserved.
Spring 2020 Hours
Mondays

3:00 - 5:00pm

The library will be closed on the following holidays:

Labor Day, Fall break, winter

break, Martin Luther King Day, Spring break, and Summer break

Tuesdays

12:00 - 2:00pm

Wednesdays

2:00 - 4:00pm

Thursdays

12:00 - 2:00pm

Fridays

2:00 - 4:00am
Library Resources
ESL Textbooks

ESL Reference Books

Journals (Back issues until 2006)

MATESL Alumni Theses (until 2006)

The MATESL Alumni Authors Collection

Course Reserves

Audiovisual (AV) Recording Equipment

 

Textbooks

ESL Textbooks by level

Grammar

Reading & Readers

Vocabulary

Listening Comprehension

Pronunciation

Speech

Composition

Research Paper Writing

Academic Writing

Handbooks

Reference books

APA Citation Style Manual (7th ed.)

ESL Teaching Theory

Teaching English for Specific Purposes (ESP)

Written & Spoken Elements in English

Etymology & Semantics

Dictionaries & Lexicography

Synonyms, Antonyms & Homonyms

Grammar

Discourse & Pragmatics

Sociolinguistics

Journals (back issues till 2006)

Applied Linguistics

Language Testing

The Journal of the Imagination in Language Learning

ELT Journal

PASAA- A Journal of Language Teaching and Learning in Thailand

IPrA- Pragmatics

TESOL Journal

Studies in the Linguistic Sciences

TESOL Quarterly
Other Equipment
The library computer has the following software for use by current EIL and LING students and ESL Staff:
Library Services & Check-Out Policy
Loan Services

* The MATESL Library doesn't provide any equipment loan service during the breaks.

Checkout and Return Options

Loan Period / Renewal / Maximum Items

Books, Journals, and Theses 

See Books, Journals, and Theses Check-Out Policy for further information

Checkout in person, mailbox delivery in FLB / return in person or via door slot

7 days  / one time renewal / 5 items

Loanable Technology

See the Loanable Technology Page

Checkout in person / return in person (Fill out the loan agreement form.)

4 days / no renewal / At the discretion of the librarian

Reserves: 
Course Reserves, Textbooks and Reference Books
Reserved AV Equipment, Audiotapes, Videotapes
Lesson Plans, the MATESL Alumni Authors Collection

Library use only

Not available for loan
General Borrowing Procedures
In person checkout: All loanable materials and equipment can be checked out in person during library hours. Please bring your I-card to checkout materials.
You will receive overdue notices if the item hasn't been returned to the library as scheduled.