Satisfactory proficiency in academic writing in English is a requirement for all graduate degrees awarded at the Urbana-Champaign campus of the University. International graduate students who are admitted on limited status because they do not meet this proficiency requirement prior to admission are placed into mandatory ESL courses based on the results of the EPT exam.
Proficiency can then be certified by the satisfactory completion of a one-semester course (ESL 515) or the two-semester sequence (ESL 511 and 512). Students may also select equivalent coursework from the "English for specific purposes" tracks available through ESL (e.g., business track one-semester course ESL 525 OR business track two-semester sequence ESL 521 and 522). International graduate students may also be required to take ESL 510 (Pronunciation).
Choosing a Graduate Track:
Graduate students should select the track that is best suited to the kinds of writing that they need to be successful in their English Academic Environment here at UIUC. Courses are designed to support students during the pursuit of their degree.
The ESL Academic Track provides instruction in essential skills in academic writing; skills for writing secondary and primary research papers, including developing research questions and design, evaluating and synthesizing scholarly sources, and producing well-reasoned and substantiated arguments.
Graduate Academic Track ESL courses to fulfill the Limited Status Writing Requirement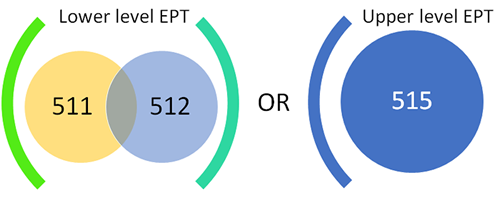 The ESL Business Track provides instruction in essential skills in business communication both in academic and professional settings; Skills covered include writing professional correspondence and business proposals, synthesizing sources, and participating in group discussions. 
Graduate Business Track ESL courses to fulfill the Limited Status Writing Requirement
If a student is not mandated to take the EPT, s/he may still enroll in ESL electives (592, 593). The student's admission exemption from the EPT will be unaffected by any ESL course taken as an elective. Elective ESL students do not need to take the EPT to enroll in elective courses. Visiting scholars and post-docs may also enroll in the elective ESL classes. Additional charges may apply.
More information on English Placement Test (EPT) is available in their section or contact the EPT staff (eptillinois@illinois.edu).  
Choosing Online vs. Face-to-Face Course Format:
Graduate students should select the course format that is best suited to their learning style and work schedule. Both the online and face-to-face (f2f) course formats fulfill the same graduation requirements, but there are key differences. Watch this video to learn more:
For more questions about ESL coursework, contact eslprogram@illinois.edu.