Welcome to the Arabic Program at UIUC! This web page contains free resources and learning materials to help those interested get started with their journey of learning Arabic.
Are you unsure of where to start or which dialect to focus on first? This article offers a good explanation of the various Arabic dialects and is a great resource for those unsure of how to approach learning Arabic.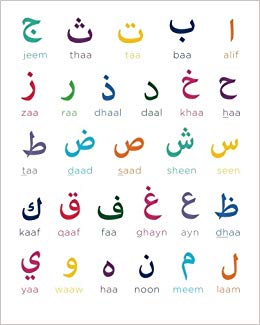 Regardless of which dialect you wish to study, the same Arabic alphabet will be used throughout. Click here for a website that offers a thorough explanation of the Arabic alphabet.
A good online resource that covers the basics and fundamentals of the Arabic language in both Modern Standard and the Egyptian dialect is Arabic Desert Sky. It covers the basic points of the language and is a good resource for new learners as well as those with background to brush up on their fundamentals. In addition, their language learning links offer an exhaustive list of resources including materials for many dialects of Arabic, links to videos, books, TV programs and movies, music, newspapers, magazines, and more.
An easy-to-use, intuitive, and comprehensive online dictionary for Arabic can be found here. It displays the root form for various words, as well as conjugation charts and definitions.
In addition, a good resource for anyone looking to improve Arabic vocabulary in a scientific context is the Arabic website of the Scientific American. It is regularly updated with many scientific articles and podcasts.
Jon Weinert (Lecturer in Middle East Studies, Smith College) has made informative videos to teach  grammar concepts. These can be found through FC LangMedia YouTube channel. For example, there is this video about  Arabic Grammar: An Introduction to the 'maSdar' (Verbal Noun) and Form I patterns المصدر, Part 1, and the maSdar patterns for forms II-V in Arabic Grammar: The 'maSdar' (Verbal Noun), Part 2: Derived Forms II-V المصدر, and lastly, Arabic Grammar: The 'maSdar' (Verbal Noun), Part 3: Derived Forms VI-X المصدر.  You may enjoy this  أغنية عن الأوزان from the Georgetown website of resources for Al-Kitaab, Vol 2 (with credit to Bud Kauffman and Anna Ziajka Stanton!). 
Students can get access to the videos from Al Kitaab, Part 1 and Part 2, second edition through this link: https://media.ed.ac.uk/esearch/search?keyword=Al%20kitaab.
Playaling has an ever-expanding library of fully-subtitled videos in Arabic. Students can hover over the Arabic words to see the definition. Content is searchable by proficiency level (Novice through Advanced), variety (MSA, Egyptian, Levantine, North African Darija, etc.), and video content (comedy, music, politics, etc.)
Al Masdar Arabic Resources is a massive library of Arabic resources where students can find new materials for Arabic teaching and learning, including worksheets, lesson plans, and useful websites. You may search for a specific topic like "routine," a skill like "listening," or a grammar topic like "verbs" to see what's available. 
Check out a collection of English and Arabic videos featured on QFI YouTube channel where you may access read-alouds of various children's books. Watch and listen to the stories that are inspired by connecting cultures for global good.
Khallina.org has several interactive modules that are appropriate for learners of varying proficiency levels.
3dmekanlar is a website that provides virtual tours of landmarks from in many countries in the Arab world. Visit mosques, tombs, palaces of sultans, museums, and other places with more than a thousand 360 degree panoramic images in high quality.
This is an Arabic/Islamic Art activity which introduces various types of Islamic geometric patterns. This tutorial allows users to make an Arabic pattern illustrator swatch, using Adobe Illustrator.  You may access this tutorial here: https://design.tutsplus.com/tutorials/how-to-make-an-islamic-pattern-in-illustrator--cms-33230
Here is a new book to learn Arabic: Letters and Meanings: Gateway to Arabic. Level A1.1 / الحروف والمعاني. مدخل إلى اللغة العربية. Victoria Aguilar, Miguel Ángel Manzano & Jesús Zanón. 2019. Editum: Murcia. You can download it for free (the book, audio files and handwriting guide) through this link:
https://libros.um.es/editum/catalog/book/2761
You can access some basic Arabic phrases here:https://www.bayut.com/mybayut/basic-arabic-words-phrases-you-must-know-dubai/
Arabic Students' Dictionary can be accessed at https://www.arabicstudentsdictionary.com. It allows students to search for any word (ذهبت/ تدرسون/ طالبات) - the word does not need to be in the singular or masculine past tense. Students can search for any verb form (انتقل/ اراد/ احتج) and they will see the form written out with all diacritical marks.
For those interested in learning Levantine Arabic, One Day at a Time's YouTube channel has many video tutorials teaching useful phrases in the dialect.
Check out this channel on YouTube which has a great selection of translated Arabic songs. These celebrate the wonderful diversity of Arabic dialects:  https://www.youtube.com/user/MohCoolMan/playlists
Below are open source books which are aimed at undergraduate students who are taking Arabic in their first year. It starts from scratch and builds literacy in the language while working on speaking and conversation from day one. These textbooks usie The World-Readiness Standards for Learning Languages developed by the American Council on the Teaching of Foreign Languages (ACTFL) as a framework.
The books can be accessed through the following links:
1- First Semester Arabic textbook:
https://openbooks.lib.msu.edu/arb101/
2- Second Semester Arabic textbook:
https://openbooks.lib.msu.edu/elemarabicll/
Lastly, students of the Arabic Program at UIUC have an Arabic Magazine called  Lisaan Al-Dhaad. It has a multitude of content including videos, poems, articles, and more, all created by students of the Arabic Program here at UIUC.