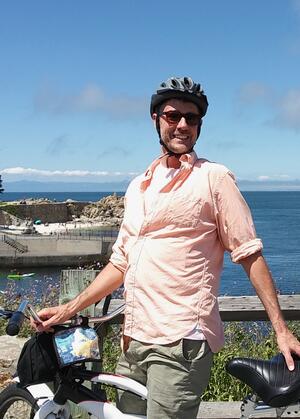 Lecturer at UC Davis University Writing Program
What degree did you receive from Illinois and when?
I graduated with a MATESL degree in 2002.
What have you been doing since you graduated? What is your current title/position? How long have you worked there?
After graduating, I worked at the Intensive English Institute for six years. In 2008, my wife and I moved to Sacramento, California. I taught at Sac State's English Language Institute and Cosumnes River College until '14. Then I joined the UC Davis University Writing Program (UWP) as a full-time lecturer. This is my sixth year in the UWP. I teach a variety of classes, such as Academic Reading and Writing for Multilingual Students, Advanced Composition, and a seminar on American and British rock music.
What are you working on right now?
I'm currently teaching a new class, Practices in College Reading and Writing, which is keeping me pretty busy. Other than that, I've been doing research related to a presentation I gave two years ago called "Global Writing Functions and Grammar in ESL Writing Classes." I hope to write an article on that topic next summer.
How has your degree from Illinois helped you in your career?
I often reflect on the knowledge I learned and the pedagogical guidance I received during my time in the MATESL program, and I realize that my degree from Illinois made it possible for me to be where I am today. My first teaching job at the Intensive English Institute -- when it was in a house on Nevada St. -- was the start of a very enjoyable, rewarding career.
Posted: 10/20/19