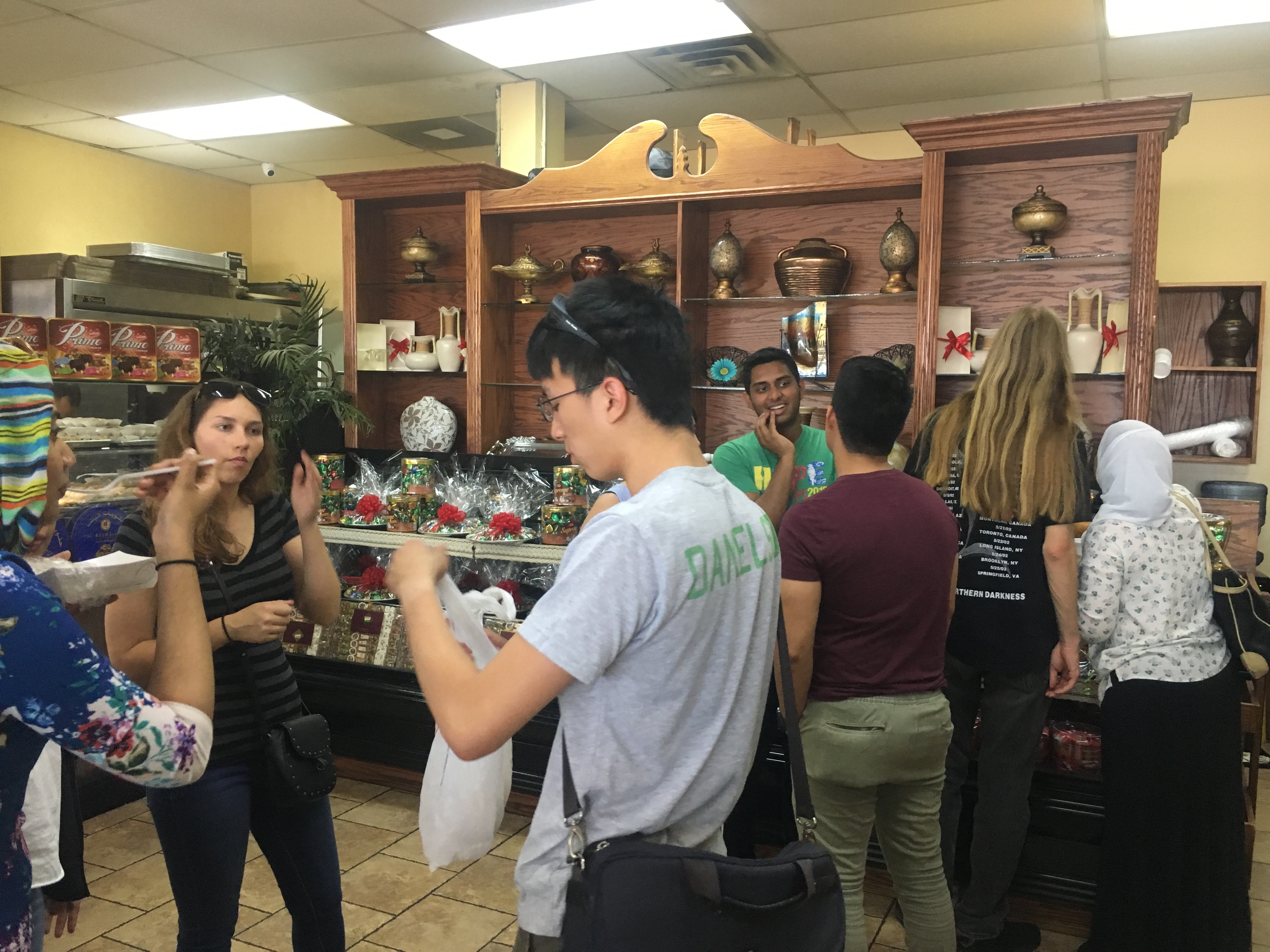 Generally, the weekly activities are organized as follows:
Mondays: cultural presentations

Tuesdays: conversation tables

Wednesdays: movie screenings

Thursdays: cooking classes
Conversation tables are listed individually for each language in the second table.
Below is the calendar for SILMW 2023. Generally, the calendar for the SILMW 2023 program is tentative although we don't expect any major changes to the advertised schedule. 
Some of these activities count as co-curricular activities that contribute to grade and extra credit. These activities have been marked as "1 Point". Other activities do not contribute to the course grade, but are mandatory. Lastly, we have social activities that we hope you will attend for cultural experience, good food, and getting to know the others involved in the program. These social activities are neither mandatory nor do they contribute to your course grade, but you are strongly encouraged to attend and hope they will be very enjoyable! For your convenience, the SILMW activities are displayed below.
 

Mon 

Tue 

Wed 

Thu 

Fri 

 

Jun 

2023

12 

 

Orientation 

9:00 – 10:00 am

13

 

Conversation Tables 

2:00 – 3:00

 

14

 

Movie Screenings 

2:00 – 4:00 

Arabic 

 

15

 

Cooking Class 

2:00 – 4:00 

Arabic 

 

16

 

19

 

Juneteenth—no class

 

20

 

Conversation Tables 

2:00 – 3:00 

 

21

 

Movie Screenings 

2:00 – 4:00 

Arabic

22

 

Cooking Class 

2:00 – 4:00 

Arabic 

 

23

 

Midterm

26

 

Cultural Presentation 

11:15 – 11:45 am 

Arabic 

 27

 

Conversation Table 

2:00 - 3:00

 

28

 

Movie Screenings 

2:00 - 4:00

Swahili

29

 

Cooking Class 

2:00 – 4:00 

Persian 

 

June 30

 

Jul 

2023

3

 

 

Cultural Presentation 

11:15 – 11:45 am

Arabic

4

 

Independence Day

 

5

 

Movie Screenings 

2:00 - 4:00 

Wolof

6

 

Cooking Class 

2:00 – 4:00 

Swahili 

           

7

 

Final

10

 

Cultural Presentation 

11:15 – 11:45 am 

Arabic 

         

11

 

Conversation Table 

2:00 - 3:00

 

12

 

Movie Screenings 

2:00 - 4:00 

Arabic

 

13

 

Cooking Class 

2:00 – 4:00 

Wolof 

 

14

 

17

 

Cultural Presentation 

11:15 – 11:45 am 

Wolof 

18

 

Conversation Tables 

2:00 - 3:00

19

 

Movie Screenings 

2:00 - 4:00 

Persian

 

20

 

Cooking Class 

2:00 – 4:00 

Arabic

 

 

21

 

Midterm

24

 

Cultural Presentation 

11:15 – 11:45 am 

Persian

25

 

Conversation Table 

2:00 - 3:00

 

26

 

Movie Screenings 

2:00 - 4:00 

Arabic

27

 

Cooking Class 

2:00 – 4:00 

Arabic 

 

 

          

28

 

 Aug 2023

July 31

 

Cultural Presentation 

11:15 – 11:45 am 

Swahili 

            

Aug 1

 

Conversation Table

2:00 - 3:00

2

 

Movie Screenings 

2:00 - 4:00

Arabic

3

 

Reading day

 4-5

 

Final
Conversation table schedule
All conversation tables are on Tuesdays
| Language | Time | Place | Points |
| --- | --- | --- | --- |
| Persian | 2 - 3 | TBA | 1 |
| Arabic | 2 - 3 | TBA | 1 |
| Swahili | 2 - 3 | TBA | 1 |
| | | | |
| --- | --- | --- | --- |
| Date | Activity | Time | Credit |
| June 12 | Orientation | 9:00-10:00 | 0 |
| June 13 | Conversation Tables | Scheduled per course* | 1 |
| June 14 | Movie Screenings  | 2:00-4:00 | 1 |
| June 15 | Cooking Class | 2:00-4:00 | 1 |
| June 19 | Juneteenth | No activities |   |
| June 20 | Conversation Tables | Scheduled per course* | 1 |
| June 21 | Movie Screenings  | 2:00-4:00 | 1 |
| June 22 | Cooking Class | 2:00-4:00 | 1 |
| June 26 | Cultural Presentation | 11:15-11:45 | 1 |
| June 27 | Conversation Tables | Scheduled per course* | 1 |
| June 28 | Movie Screenings  | 2:00-4:00 | 1 |
| June 29 | Cooking Class | 2:00-4:00 | 1 |
| July 3 | Cultural Presentation | 11:15-11:45 | 1 |
| July 4 | Independence Day | No activities |   |
| July 5 | Movie Screenings  | 2:00-4:00 | 1 |
| July 6 | Cooking Class | 2:00-4:00 | 1 |
| July 10 | Cultural Presentation | 11:15-11:45 | 1 |
| July 11 | Conversation Tables | Scheduled per course* | 1 |
| July 12 | Movie Screenings  | 2:00-4:00 | 1 |
| July 13 | Cooking Class | 2:00-4:00 | 1 |
| July 17 | Cultural Presentation | 11:15-11:45 | 1 |
| July 18 | Conversation Tables | Scheduled per course* | 1 |
| July 19 | Movie Screenings  | 2:00-4:00 | 1 |
| July 24 | Cultural Presentation | 11:15-11:45 | 1 |
| July 25 | Conversation Tables | Scheduled per course* | 1 |
| July 26 | Movie Screenings  | 2:00-4:00 | 1 |
| July 27 | Cooking Class | 2:00-4:00 | 1 |
| July 31 | Cultural Presentation | 11:15-11:45 | 1 |
| August 1 | Conversation Tables | Scheduled per course* | 1 |
| August 2 | Movie Screenings  | 2:00-4:00 | 1 |