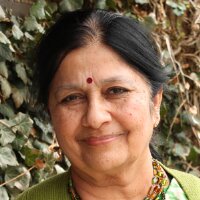 Contact Information
University of Illinois
Dept. of Religion, MC-166
707 South Mathews Ave.
Urbana, IL 61801

Office: 310 Foreign Languages Building
Research Interests
Hinduism, languages and cultures of India, sociolinguistics, South Asian languages (Hindi, Marathi and Sanskrit), Language of Religion, Asian Mythology, and Religion in Diaspora.
Education
Ph.D. University of Illinois at Urbana-Champaign, 1981
Ph.D. Nagpur University, 1973
M.A. Nagpur University, 1964
B.A. Nagpur University, India, 1962
Awards and Honors
University Distinguished Teacher Scholar, 2009
William Prokasy Award for excellence in undergraduate teaching, 1996
Harriet and Charles Luckman All Campus Distinguished Undergraduate Teaching Award, 1996
University Scholar, 1992
Additional Campus Affiliations
Highlighted Publications
Books
Language of Religion in South Asia: Theory and Practice. forthcoming from Palgrave-MacMillan, 2011.
Sociolinguistic Dimensions of Marathi, 2003.
A Grammar of the Marathi Language. Routledge, 1997.
The Eternal Self and the Cycle of Samsara. Ginn Press, 1990.