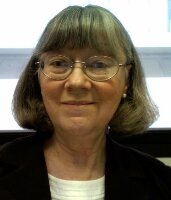 Contact Information
University of Illinois
Dept. of Linguistics, MC-168
707 South Mathews Avenue
Urbana, IL 61801
USA

Office: 3037 Foreign Languages Bldg.
Associate Professor Emeritus
Additional Campus Affiliations
Highlighted Publications
Books
Koshik, Irene. Beyond Rhetorical Questions: Assertive Questions in Everyday Interaction. Amsterdam: John Benjamins, 2005.
Book Contributions
Koshik, Irene. "Questions and Other Prompts in Teacher-Student Conferences." "Why Do You Ask?": The Function of Questions in Institutional Discourse, edited by Alice Freed. Oxford: Oxford University Press, 2009, p. 159-186.
Koshik, Irene. "Questions and Questioning." The International Encyclopedia of Communication, Malden, MA: Blackwell, 2008.
Journal Articles
Seo, Mi-Suk. "A conversation analytic study of gestures that engender repair in ESL conversational tutoring." Journal of Pragmatics, vol. 42, no. 8, 2010, p. 2219-2239.
Recent Publications
Koshik, I. (2015). Questions and Questioning. In W. Donsbach (Ed.), The International Encyclopedia of Communication John Wiley & Sons, Ltd. https://doi.org/10.1002/9781405186407.wbiecq005
Koshik, I., & Okazawa, H. (2012). Journal of the american society for information science and technology-2012. Journal of the American Society for Information Science and Technology, 63(10), 2006-2019. https://doi.org/10.1002/asi.22677
Koshik, I., & Seo, M. S. (2012). Word (and other) search sequences initiated by language learners. Text and Talk, 32(2), 167-189. https://doi.org/10.1515/text-2012-0009
Koshik, I. (2010). Questions That Convey Information in Teacher-Student Conferences. In Why Do You Ask?: The Function of Questions in Institutional Discourse (pp. 1-44). Oxford University Press. https://doi.org/10.1093/acprof:oso/9780195306897.003.0008
Seo, M. S., & Koshik, I. (2010). A conversation analytic study of gestures that engender repair in ESL conversational tutoring. Journal of Pragmatics, 42(8), 2219-2239. https://doi.org/10.1016/j.pragma.2010.01.021