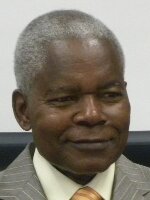 Contact Information
University of Illinois
Dept. of Linguistics, MC-168
707 South Mathews Avenue
Urbana, IL 61801
USA

Office: 4038 Foreign Languages Bldg.
Additional Campus Affiliations
Highlighted Publications
Books
Bokamba, Eyamba. African Language Program Development and Administration A History and Guidelines for Future Programs, NALRC, University of Wisconsin-Madison, 2002.
Bokamba, Eyamba. Tosolola Na Lingala Let's Speak Lingala, University of Illinois Press, 2004.
Book Contributions
Bokamba, Eyamba. "The politics of language planning in Africa: Critical choices for the 21st century." Discrimination Through Language in Africa? Perspectives on the Namibian Experience, Mouton De Gruyter, 1995, p. 11-28.
Encyclopedia Entries
Bokamba, Eyamba. "Encyclopedia of Twentieth-Century African History." [The spread of] Lingala, Routledge, 2003.
Recent Publications
Bokamba, E. G. (2019). Nationalism and the emergence of Lingala as a supranational language in DR Congo. World Englishes, 38(1-2), 53-66. https://doi.org/10.1111/weng.12393
Bokamba, E. G. (2018). Multilingualism and theories of second language acquisition in Africa. World Englishes, 37(3), 432-446. https://doi.org/10.1111/weng.12330
Bokamba, E. G. (2015). African Englishes and creative writing. World Englishes, 34(3), 315-335. https://doi.org/10.1111/weng.12145
Bokamba, E. G. (2015). Multilingualism as a sociolinguistic phenomenon: Evidence from Africa. In Languages in Africa: Multilingualism, Language Policy, and Education (pp. 21-48). Georgetown University Press.
Bokamba, E. G. (2014). Language Policy and Identity Construction: The Dynamics of Cameroon's Multilingualism. Journal of Sociolinguistics, 18(3), 408-414. https://doi.org/10.1111/josl.12087