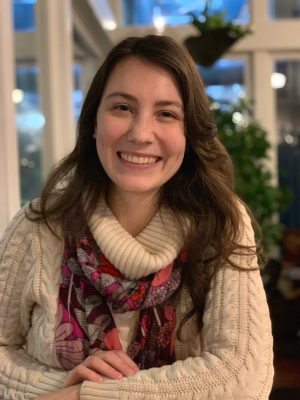 GRAD TEACHING ASST, Linguistics
Biography
Alexandra's research examines how learner identity and perception influence the literacy and language practices of second language learners. After working with Spanish migrant workers and refugees in her hometown ESL center, she recognized the deficit in current literacy curriculum for students with little to no educational experience. She is passionate about supporting underprivileged and low-income students. She has a Master's in Teaching English as a Second Language and works to improve the lives of the ESL student population in the United States. She is currently moving to the Bay Area to continue her career in higher education.
Awards and Honors
Peter Strevens Award for Academic Excellence, Spring 2020
Department of Linguistics Summer MA Thesis Fellowship, Summer 2019
University of Illinois at Urbana-Champaign Teaching Assistantship, 2018–2019
McGregor Grant for Research in Written Rhetoric Program, Summer 2017
Schemper-Kamp Family Scholarship for Excellence in Writing, 2017
Nicholas and Pauline Boeskool Scholarship, 2016
Calvin College Academic Dean's Scholarship, 2015–2018
James E. Smith Dean's Scholarship, 2014
Mosaic Award for Minority Students, 2014–2018
Courses Taught
ESL 511 Written and Oral Communication (4 contact hour course)
ESL 512 Introduction to Academic Writing (4 contact hour course)
Additional Campus Affiliations
Calvin University, Grand Rapids, Michigan
External Links
Recent Publications
Butler-Auld, H. (2020). Literacy practices of Mexican and Ghanaian immigrant women with limited ESL literacy [Master's thesis, University of Illinois at Urbana-Champaign]. IDEALS.