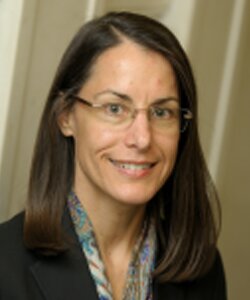 Contact Information
LAS Student Academic Affairs
2002 Lincoln Hall, MC-446
702 S. Wright St.
uiuc campus mail, IL 00001
Associate Dean, LAS
Adj Assistant Professor, Linguistics
Adj Assistant Professor, Global Studies
Biography
Barbara Hancin provides leadership for undergraduate academic affairs for the College of Liberal Arts and Sciences and has particular interest in international/global studies.  She holds appointments in Linguistics and Global Studies, and her research expertise is in second language acquisition.  Dr. Hancin was previously Director of Global Studies at Illinois and on the faculty at Penn State University, University of South Carolina, and University of Utah.
Education
Ph.D. Linguistics
A.M. Spanish Applied Linguistics
A.B. Economics
Highlighted Publications
Book Contributions
Hancin-Bhatt, B. "Second language phonology in Optimality Theory." Phonology and Second Language Acquisition, edited by M Zampini, edited by J Hansen. Amsterdam/Philadelphia: John Benjamins, 2008, p. 117-146.
Hancin-Bhatt, B, and A. Govindjee. "A computational model of feature competition in L2 transfer." Language and thought in development: Cross-linguistic studies, edited by P Broeder, edited by J Murre. Gunter Narr: Tuebingen, 1999, p. 145-161.
Hancin-Bhatt, B. "Extended Full Transfer/Full Access: A Prolegomena." New Sounds 97: Selected Papers from the Third International Symposium on the Acquisition of Second Language Speech, edited by James Leather, edited by Allan James. Klagenfurt: University of Klagenfurt Press, 1997, p. 109-117.
Durgunoglu, A, and B. Hancin-Bhatt. "Cross-language transfer in bilingual reading." Cognitive Processing in Bilinguals, Amsterdam: Elsevier, 1992.
Journal Articles
Bhatt, R, and B. Hancin-Bhatt. "Structural minimality, CP, and the initial state in adult L2 acquisition." Second Language Research, vol. 18, no. 4, 2002, p. 348-392.
Hancin-Bhatt, B. "Optimality in second language phonology: Codas in Thai ESL." Second Language Research, vol. 16, no. 3, 2000, p. 201-232.
Hancin-Bhatt, B, and R. Bhatt. "Optimal L2 syllables: Interactions of transfer and developmental effects." Studies in Second Language Acquisition, vol. 19, no. 3, 1997, p. 331-378.
Bhatt, R, and B. Hancin-Bhatt. "Transfer in L2 grammars: Commentary on Epstein, Flynn and Martohardjono's 'Second language acquisition: Theoretical and experimental issues in contemporary research'." Behavioral and Brain Sciences, vol. 19, no. 4, 1996.
Hancin-Bhatt, B, and W. Nagy. "Lexical transfer and second language morpological development." Applied Psycholinguistics, vol. 15, 1994, p. 289-310.
Hancin-Bhatt, B. "Segmental transfer: A natural consequence of a dynamic system." Second Language Research, vol. 10, no. 3, 1994, p. 242-270.
Hancin-Bhatt, B. "Issues on Indian English Phonology." World Englishes, vol. 10, no. 3, 1992, p. 219-228.
Hancin-Bhatt, B. "On the phonology-morphology interaction in Brazilian Portuguese vowel harmony." Studies in Linguistic Sciences, vol. 21, no. 1, 1991, p. 39-54.